A Fun and Convenient Way to Keep Mosquitos Away!

There are many ways that you can keep your family safe from harmful mosquitos that may be bringing disease and harm to the people you love. Studies show that mosquitos are a known carrier of the Zika virus, malaria, dengue, chikungunya, yellow fever, West Nile virus among other diseases.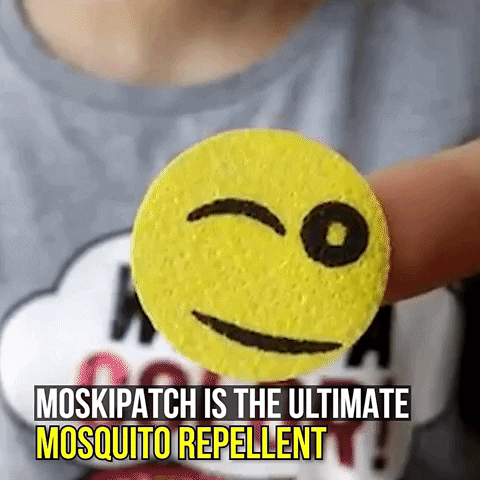 That is why it is very important that you own the MOSKIPATCH: Mosquito Repellent Stickers and have them ready for you to use at home!
Take a glimpse at the cool features that you will get to enjoy when you own this Mosquito Repellent Stickers:
EASY TO USE AND ATTACH – No need to read long and hard to follow instructions as the Moskipatch is designed for easy usage. Conveniently peel off the sticker from its container and paste them on your clothing or personal items and you should be keeping mosquitos away instantly.
COMES IN FUN AND EXCITING DESIGNS – With a wide variety of colors and designs to choose from, you will get to enjoy picking out a Mosquito Repellent Stickers that you will use for the day! This way, your kids will love using the sticker the moment they step out of the house.
AVAILABLE IN A SET OF 60 PIECES – You don't just get 1 sticker when you by this product, but you will get 60 in all! This way, you can easily have the whole family use the stickers and still have more left to use for the following days to come.
PERFECT FOR KIDS AND ADULTS ALIKE – Use this sticker not just for your little kids but also for adults alike allowing you to buy just a set of stickers to be used by the whole family.
Now you have a fun and adorable way to keep mosquitos from getting near you and your family! Own this cute and fancy MOSKIPATCH: Mosquito Repellent Stickers and feel safe that mosquitos will never bother your family again. Click on the "Add to Cart" button now!
How to Use the MOSKIPATCH: Mosquito Repellent Stickers:
Make sure that you have the area where you need to stick the Moskipatch clean before applying the sticker. Wipe off the area with a clean towel ensuring that no oil residue may cause the adhesive to lose its stronghold.
Remove the sticker from its packet and stick them on any clothing material – socks, shirts, hats, shorts, or even on your bags or gadgets.
If you have extra mosquito repellent stickers let, make sure that you keep them on an air-tight container.
Note:
Do not stick directly to the skin.
Do not place near any fire hazards or electrical sources.
Prevent exposure to direct sunlight
Stop using the product when you feel any itchiness or skin irritation.
In case it gets in direct contact with your eyes, flushed out with water and do not rub the area.
Product Details:
Color: Random colors will be posted
Composition: Natural citronella essential oil + Non-woven Fabric
Size: 11.5cm * 8 cm/4.53*3.14″ (pack), diameter 2.5 cm/0.98″ (patch)