Mosquitos are one of the deadliest insects in the world. They are a leading carrier of disease that can highly infect not just kids but adults alike. That is why it is very important that you keep your home clean and maintaining a mosquito-free environment.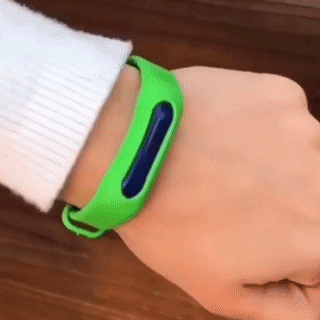 But it is not always that your family is staying at home that is why it is critical that they stay safe even when they are away from the house. Let them wear the Mosquito Repellent Fashion Bracelet and feel secure that you've given them an item that will help repel mosquitos away.

Here are the features you will love about the mosquito bracelet:
MADE FROM PREMIUM QUALITY MATERIAL – You can be sure that this product will stay with you and your family for a long time as they are durable and waterproof allowing you to use them even when your kids are into any water activities.
USING NATURAL ESSENTIAL OILS – Using Citronella, tea tree oil, lavender, eucalyptus oil, mug wort oil, lemon essential oil, Chamomile essential oil, and peppermint oil, each natural ingredients are known to keep mosquitos away while not harming your kids' sensitive skin and sense of smell.
CHIC AND FASHIONABLE – You will love the fun and colorful candy colors available with this mosquito repellent bracelet, Choose the favorite color of your little one or better get, get all shades today!
KEEP YOUR FAMILY SAFE – Keep mosquitos away when you have a mosquito bracelet that uses natural ingredients that is known to keep mosquitos away.
APPLICABLE FOR DIFFERENT AGE GROUPS – Whether you are giving this to your little angel, your kids, toddler or teenager, this mosquito repellent bracelet will look amazing on different ages.
What are you waiting for? Click on the "Add to Cart" button now and feel safe that your family will never have to worry about mosquitos getting near them again. Add them to your cart today!
When to Use the Mosquito Repellent Fashion Bracelet:
Whether you are using this for your active kids or for any of your family members, wearing this bracelet on different occasions will definitely keep the whole family safe from any harm that mosquitos may bring. Here are ways on when you can use this product:
When Taking the Kids to the Park. Have your kids wear this handy mosquito bracelet and keep them safe from harm that may be brought about by mosquitos especially when they are at the park where lots of people are around.
During Camping Trips. Have your little camper wear this mosquito repellent bracelet during camping trips as they are surrounded by plants and stagnant water where mosquitos mostly live.
When Kids Are At School. You will never know where your kids maybe are playing when they are at school, so it is best that you keep them safe by having them wear this bracelet.
When Going Outdoors. Take your kids out with you when you visit friends and family and feel secure that you have them wear a mosquito bracelet that will keep mosquitos away.
Product Details:
Material: silicone
Capsule: essential oil liquid
Length: 23cm, diameter:7cm Wide 1.3cm
Distance: 1.5m
Colors: Black, Blue, Yellow, Green, Purple, Red, Pink, Orange